Location
City of Aitkin, Minnesota
Solutions
The Aitkin Municipal Airport needed a new Jet A fuel facility to fulfill the needs of its growing number of users. The existing 100LL system was not enough as some existing airport users had aircraft needing Jet A fuel.
Bolton & Menk provided engineering design and construction services for a new Jet A fuel facility. The project included site work, a concrete pad, a 6,000 gallon fireguard fuel tank, piping, and fueling cabinets. Bolton & Menk also assisted the city in securing federal funding for the project.
The Aitkin Municipal Airport now has a 6,000 gallon Jet A fuel system to better serve the needs of its existing and future users. This also increases the types of aircraft that can use the airport, encouraging future growth and increasing revenue to support the airport.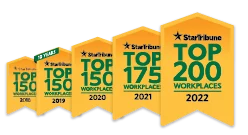 Named one of the very best workplaces in the State of Minnesota! We're proud to rank in the Top 50 on the list, and even prouder that we were voted in by our own employees.