Location
City of Estherville, Iowa
Solutions
The Estherville Municipal Airport has a fast-growing flight school on the airport and has been attempting to add a parallel taxiway to their single paved runway for several years to minimize conflicts with back-taxiing, especially when the student pilot load is high. The first phase of adding a full parallel taxiway is the construction of a partial parallel taxiway from the apron to the south end of Runway 16/34.
Bolton & Menk designed and constructed the partial parallel taxiway to connect the Runway 34 threshold end of the runway to the aircraft parking apron and connector taxiway. This design consisted of storm sewer upgrades to drain existing low areas as well as the new infield created by the taxiway, subdrain installation, conduits under pavement for future lighting of the taxiway, and pavement marking. Phasing of construction was required to minimize interruptions to aircraft traffic, as the connecting taxiway is the only paved access from their runway to the apron.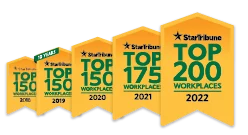 Named one of the very best workplaces in the State of Minnesota! We're proud to rank in the Top 50 on the list, and even prouder that we were voted in by our own employees.