Location
City of Independence, Iowa
Solutions
The Independence Municipal Airport had been receiving interest from both hobby pilots and corporate pilots about the possibility of building private hangars on the airfield through a land lease. Due to the lack of proper safety clearances and taxilane widths, it was determined that a new taxiway would be needed to accommodate future development.
Bolton & Menk worked with the Independence Municipal Airport commission to determine a developmental strategy to allow for optimal development on the south side of their existing hangar area. This included laying out future hangars and taxilanes that would accommodate aircraft, both large and small, while meeting FAA safety standards and clearances. The taxiway that was constructed not only allows for future hangar development, but also allows existing hangar tenants to access the parallel taxiway and runway without having to taxi through the apron area, helping to improve airport safety.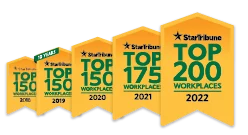 Named one of the very best workplaces in the State of Minnesota! We're proud to rank in the Top 50 on the list, and even prouder that we were voted in by our own employees.