Location
City of Litchfield, Minnesota
Solutions
Runway 13/31, Taxiway A, and the apron pavement were in dire need of reconstruction due to severe longitudinal and transverse cracking, rutting, depressions, and patching. Fully reconstructing all pavements in one year was not feasible because of limited federal funding.
Bolton & Menk designed and constructed a full-depth reclamation (FDR) project to rejuvenate the airport's pavement. FDR is the process of pulverizing the existing bituminous, then blending the pulverized mixture and blending with the underlying aggregate base to provide a recycled bituminous base course. FDR recycles existing materials on-site while providing a comparable product to virgin aggregate base at a substantially lower price.
Using the FDR process allowed the city to reconstruct the runway, taxiway, and apron within the federal funding available.
Awards
MnDOT Office of Materials & Road Research – 2016 Merit Award for Bituminous Surfacing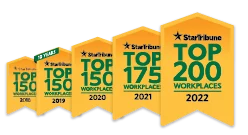 Named one of the very best workplaces in the State of Minnesota! We're proud to rank in the Top 50 on the list, and even prouder that we were voted in by our own employees.