Location
City of Washington, Iowa
Solutions
The existing apron at the Washington Municipal Airport was undersized. During heavy traffic, especially agricultural spraying season, multiple aircraft on the apron created significant and often dangerous congestion. At times, airport tenants were unable to access their hangars due to parked aircraft; transients were unable to refuel due to fuel system access; and congestion complaints were recurrent.
Bolton & Menk developed a phasing plan to improve traffic flow, eliminate safety concerns, and improve access to the fueling and hangar areas. The project was designed with a base bid allowing larger aircraft to park away from congested areas. It included bid alternates to improve traffic flow and additional parking to help clear the fueling area. The phasing plan culminated in a consensus between the FAA and the airport to design the larger project with bid alternates, which resulted in a bid 25 percent below anticipated cost.
The apron expansion allows transient aircraft to stay clear of taxilanes, spraying operations to have an operating area away from the terminal and fueling areas, and transients to have clear, safe access to the fueling system. The phased plan includes future phases to allow even larger aircraft to use the airport safely and efficiently.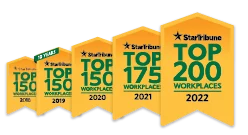 Named one of the very best workplaces in the State of Minnesota! We're proud to rank in the Top 50 on the list, and even prouder that we were voted in by our own employees.