Location
City of Wheaton, Minnesota
Solutions
The existing airport hangars were full, forcing major businesses operating at the airport to house their aircraft elsewhere, resulting in a loss of rent revenue and fuel sales. Numerous other businesses called the city to discuss operating their business out of the airport, only to be turned away due to lack of hangar space. The city understood the need to construct a new hangar to allow additional aircraft to base at the airport.
Working with the FAA, Bolton & Menk developed a plan to construct a 210-foot by 70-foot multi-bay hangar that would accommodate three aircraft. The city was able to demonstrate an immediate need for the additional hangar and a federal grant was approved for the project. A major business operating at the airport is now able to house their entire fleet in Wheaton and additional space is available for new businesses.
In order to move forward with construction with federal funding, Bolton & Menk helped the city borrow $600,000 in federal non-primary entitlement funds from other airport sponsors.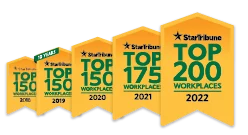 Named one of the very best workplaces in the State of Minnesota! We're proud to rank in the Top 50 on the list, and even prouder that we were voted in by our own employees.