Location
City of Ames, Iowa
Multiple stages of downtown renovations were phased in the 5th Street corridor, a vibrant business district. The final phase included several blocks on the west end, including two blocks adjacent to City Hall Campus. New stormwater requirements were recently adopted, including stormwater quality treatment for private development. The city was preparing for a City Hall Campus update and wanted to join stormwater from 5th Street into the city hall treatment system design.
Bolton & Menk coordinated the design efforts of 5th Street with the sustainable concepts for the City Hall Campus. Through the use of permeable pavers, subsurface aggregate storage, and bio-retention areas, the city hall parking lot was transformed into a stormwater management showcase, all while leveraging IDALS funding to include soil quality restoration and revised landscaping for the entire City Hall Campus. A combination of stormwater treatment created the opportunity for project funding unique to a public street improvement project. The end product resulted in a landscape requiring reduced annual maintenance while removing more stormwater from surrounding infrastructure and waterways.
Awards
American Council of Engineering Companies of Iowa – 2019 Engineering Achievement Award in Special Projects

American Public Works Association – Iowa Chapter – 2018 Environment Project of the Year
Resources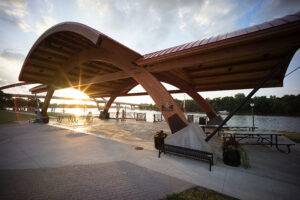 At Bolton & Menk, we listen from your perspective to bring you solutions that will fit your community's needs to become safe, sustainable, and beautiful.
Learn
Named one of the very best workplaces in the State of Minnesota! We're proud to rank in the Top 50 on the list, and even prouder that we were voted in by our own employees.