Location
City of Myrtle Beach, South Carolina
Sectors
Decades in the making, the Arts & Innovation District was envisioned to elevate the experience of Downtown Myrtle Beach. The dynamic vision celebrates the vibrant heyday of the city's past, showcases the creativity of the present, and capitalizes on innovative thinking of the future. Ambitious planning at this scale required the removal of physical and economic hurdles as well as a broad strategy that empowered stakeholders.

Bolton & Menk led the planning and design of the infrastructure overhaul including the full redesign of approximately 1.34 miles of roadways and alleys into safe, beautiful streets that function for bikes and pedestrians. The streetscape included realigning and redesigning roadways to include wider sidewalks, on-street parallel parking, and bike lanes. Additionally, we completed the water, gravity sewer, force main, pump station, storm drainage, and electrical conversion design.

The zoning ordinance generated for the Arts & Innovation District allowed for zero lot setbacks for development. This neglected the lack of stormwater retention and infrastructure in the area. We proposed using pervious pavers in a portion of the areas being redeveloped. The sandy soil allows the stormwater runoff to infiltrate back into the ground which minimizes the downstream runoff and alleviates some existing flooding concerns.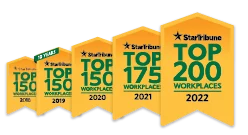 Named one of the very best workplaces in the State of Minnesota! We're proud to rank in the Top 50 on the list, and even prouder that we were voted in by our own employees.