Location
City of Belle Plaine, Minnesota
Belle Plaine is a rapidly expanding city split by a major highway and needed safe connectivity. At one time, Belle Plaine had seven at-grade crossings on TH 169. As safety concerns forced the closing of those crossings, the only remaining crossing was a full interchange located on the northeast corner of the city.
An additional interchange was considered fiscally impractical. Bolton & Menk worked to find an affordable solution to safely meet the community's transportation needs. By collaborating with Scott County, MnDOT, and the Metropolitan Council, a package was assembled that allowed the city to build a locally funded overpass near CSAH 3 across TH 169 at approximately half the cost of a full interchange. This project has been cited by MnDOT as an example of how working collaboratively to find "right-sized" solutions can help communities get the job done.
Residents have quickly adapted to the new, convenient traffic pattern. Adding to the success is direct outside investment in economic development that would not have been possible without the connectivity and access provided by the new overpass.
Awards
American Council of Engineering Companies of Minnesota – 2016 Honor Award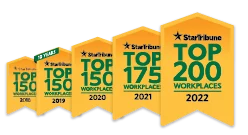 Named one of the very best workplaces in the State of Minnesota! We're proud to rank in the Top 50 on the list, and even prouder that we were voted in by our own employees.