Location
City of Blue Earth, Minnesota
A local business donated a 65,000 SF multi-use office building complex known as the Ag Center to the Blue Earth EDA. Known issues included leaks in the roof, plumbing problems, electrical problems, and an inefficient and deteriorating parking lot with poor surface drainage conditions.
Bolton & Menk worked closely with the Blue Earth EDA and Faribault County SWCD to develop an efficient parking lot layout, improved surface drainage, and water quality features to reduce sediment and nutrient contaminants in the runoff. The Faribault County SWCD identified and secured available funding sources for the water quality features and provided direct input during the design process.
The improved parking lot is more attractive and provides adequate parking for the businesses and their customers. The Faribault County SWCD could implement one of the first water quality improvement projects in the City of Blue Earth. The Blue Earth River will benefit from a reduction in stormwater runoff contaminants since the former site surface drained and was piped directly to the river with virtually no treatment.
Awards
Faribault County Soil and Water Conservation District – 2016 Stormwater Excellence Award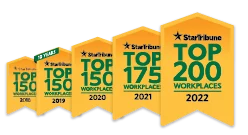 Named one of the very best workplaces in the State of Minnesota! We're proud to rank in the Top 50 on the list, and even prouder that we were voted in by our own employees.