Location
City of Brooklyn Park, Minnesota
Several blocks of city infrastructure were in dire need of upgrades along with improvements to drainage in the area.
Bolton & Menk completed the surveying, project development, design, bidding, and construction administration for the reconstruction project. The project included approximately 6,400 feet of watermain replacement, spot sanitary sewer repairs, over 21,000 feet of concrete curb and gutter replacement, driveway reconstruction, 36,000 square feet of bituminous pavement reconstruction, turf restoration, erosion control, and traffic control. Drainage improvements included a new stormwater management pond.
Weekly construction updates and notifications to residents were dispersed to inform them of changing construction conditions and were critical to project success. The project was completed with minimal disruption and improved the failing infrastructure and drainage issues in the area.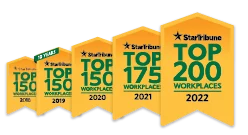 Named one of the very best workplaces in the State of Minnesota! We're proud to rank in the Top 50 on the list, and even prouder that we were voted in by our own employees.