Location
City of Buffalo, Minnesota
Settlers Parkway is a new connector roadway linking TH 25 and TH 55, providing a critical connection between the regional roadways. The project and adjacent projects resulted in increased stormwater runoff volume. Additionally, the project needed irrigation on more than a half mile of heavily landscaped medians and boulevards.
Bolton & Menk worked to route stormwater through standard wet stormwater detention ponds. The water kept there is used to supply the adjacent irrigation system for the parkway vegetation. The irrigation system consists of a pump, intake pipe, and filter system to distribute water into the irrigation system. Flow sensors were incorporated to monitor water usage, which also provides the system the ability to automatically turn off in the event of a system leak or break.
Stormwater collection and reuse for irrigation gave the city a lead on a new method to meet future requirements. The project reduced the amount of groundwater pumped from aquifers, along with the volume of stormwater exiting on-site to downstream properties, streams, lakes, and rivers.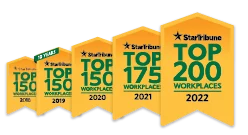 Named one of the very best workplaces in the State of Minnesota! We're proud to rank in the Top 50 on the list, and even prouder that we were voted in by our own employees.