Location
Chapel Hill Foundation Real Estate Holdings, Inc.
Sectors
University Square and Granville Towers were purchased by the Chapel Hill Foundation Real Estate Holdings, a not-for-profit corporation founded by the UNC Foundation, to assist with university real estate projects. The goal of the project was to support both UNC and the Town of Chapel Hill through redevelopment of 123 West Franklin Street into a vibrant mixed-use project to enhance the quality of life for the university, Chapel Hill, and region. The project redeveloped the site in two phases. The existing retail and office space was replaced with a mix of new offices, retail, multi-family for-rent units, town homes, and parking. The second phase included new offices, retail, a major central cultural space, and parking. Bolton & Menk provided planning, site development, and landscape architecture services for the project. The plan fronts the key buildings on West Franklin Street to enliven the streets with retail. The project also proposed a significant new public open space in the center of the development to attract residents, office workers, and visitors.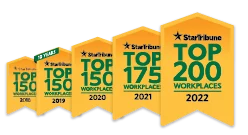 Named one of the very best workplaces in the State of Minnesota! We're proud to rank in the Top 50 on the list, and even prouder that we were voted in by our own employees.