Location
Carver County, Minnesota
Sectors
The CSAH 61 project was a top priority to plan, fund, and construct based on previous planning completed by the county, MnDOT, and local cities. This project was identified to replace a deficient bridge over West Chaska Creek and make significant safety improvements to a heavily used pedestrian crossing at Pine Street and CSAH 61. There was also a high-priority need to provide roadway geometrics that would increase functionality and safety within the corridor to handle increasing traffic volumes.
Our team gathered input to understand all stakeholder goals through regular meetings and a strong communication plan. A plan was developed to replace and expand the bridge to handle increasing traffic volumes. Corridor access was managed, pedestrian safety was increased, and environmental goals were met through the design of a multi-lane divided roadway with green medians. A staged construction and detour plan was devised to ease local resident and business concerns for access. Additionally, construction was completed without completely closing access to Fireman's Park, Crooked Pint Ale House, and the Chaska Event Center.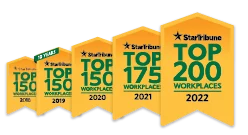 Named one of the very best workplaces in the State of Minnesota! We're proud to rank in the Top 50 on the list, and even prouder that we were voted in by our own employees.