Location
City of Cedar Rapids, Iowa
Solutions
Nine blocks of roadway pavement on 8th Avenue SW and Rockford Road in the City of Cedar Rapids had deteriorated and were identified for rehabilitation in the city's paving for progress program. The city wanted to efficiently extend the pavement service life, improve rideability, and create ADA-compliant intersection pedestrian ramps and landings. They also wanted to make stormwater drainage improvements and add a water main to make closed loop connections.
The project was split into two phases to fit the city's funding timeline. In the first phase, Bolton & Menk designed an asphalt mill and overlay from 18th Avenue to 15th Avenue. The overlay included an HMA interlay designed to reduce reflective cracking. New water main was designed to provide a looped connection to larger mains at either end of the project.
The second phase included a full PCC reconstruction with a narrowed roadway section to calm traffic and reduce impervious area. A series of stormwater detention basins were built in the roadway median at the 8th Avenue/Rockford Road intersection. The narrowed roadway width and stormwater management practices combined to decrease construction cost by reducing the size of downstream storm sewer and decreasing the quantity of paving.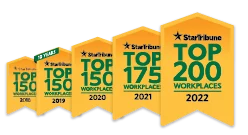 Named one of the very best workplaces in the State of Minnesota! We're proud to rank in the Top 50 on the list, and even prouder that we were voted in by our own employees.