Location
City of Claremont, Minnesota
An ethanol plant run by Al-Corn Clean Fuel has been planning a major expansion of their existing Claremont plant which will increase production from 50 million gallons per day to 120 million. With this increase in production comes an increase in heavy commercial traffic on an existing public road (5th Street) which was showing signs of significant deterioration. Additional width for on-street parking was also needed to accommodate heavy hauling periods during the fall.
The city was awarded a 50 percent grant from the Greater MN Business Development Public Infrastructure grant program. The remainder of required funding came from a tax increment finance (TIF) district formed for the project. Project improvements included replacement of the existing surfacing with a new heavy-duty pavement section and a widened shoulder to accommodate temporary semi-truck parking during high demand periods.
The project was constructed during the summer of 2017. Through thoughtful planning, construction was completed while maintaining access for business and construction traffic to the ethanol plant. The city and Al-Corn now have a reconstructed access road which will support the plant's plans for continued growth and local job creation.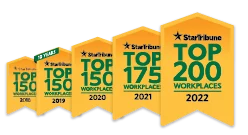 Named one of the very best workplaces in the State of Minnesota! We're proud to rank in the Top 50 on the list, and even prouder that we were voted in by our own employees.