Location
SunCap Property Group
Sectors
Draper Place is a high-end residential project in the Elizabeth neighborhood in Charlotte, North Carolina. Draper Place consists of 46 apartment units and 8 townhomes. Bolton & Menk provided civil engineering and landscape architecture services for the 2.32-acre project, which was a joint venture by two developers. As an infill, the project combined 12 parcels and abandoned an alley. Bolton & Menk worked closely with SunCap Property Group and Cline Design to create a seamless aesthetic throughout the project. Residential amenities include secured underground parking, landscaped open space, fenced dog walks, and an outdoor kitchen. Draper Place was named a finalist in the Top Apartment or Condominium Development category for the 2020 Charlotte Business Journal Heavy Hitters awards.
Awards
Charlotte Business Journal – Heavy Hitters Commercial Real Estate Awardss Top Apartment/Condominium Development (FINALIST)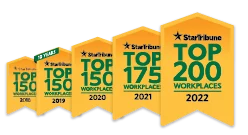 Named one of the very best workplaces in the State of Minnesota! We're proud to rank in the Top 50 on the list, and even prouder that we were voted in by our own employees.