Location
City of Fairmont, Minnesota
Margaret Street is a vital link between two major arterial routes in Fairmont – North Avenue (CSAH 41) and State Street (TH 15) – but it was underused due to poor drainage and its gravel surface. With the wastewater treatment plant nearby, the street also had significant utilities, including a 30-inch sanitary sewer and 12-inch watermain.
With the help of state and federal funding agencies, the City of Fairmont upgraded the gravel street to bituminous pavement with curb and gutter and constructed storm sewer to eliminate the poor drainage conditions. Bolton & Menk consolidated the existing watermains and replaced the 1970 asbestos-cement pipe with new PVC. The project corridor also included dual sanitary sewers, which were combined into one pipe. Land was acquired to accommodate an off-street trail, connecting a portion of an existing trail network to the adjacent softball complex.
Bolton & Menk provided engineering and surveying services to take the project from concept through construction. Using careful design, planning, and construction phasing, we constructed the project with minimal disruption to existing utility services and local traffic.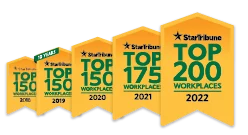 Named one of the very best workplaces in the State of Minnesota! We're proud to rank in the Top 50 on the list, and even prouder that we were voted in by our own employees.