Location
City of Forest Lake, Minnesota
With the expansion of their water system and signs of continued growth and redevelopment, a complete water distribution model was needed for the City of Forest Lake. A full calibration and analysis of the system would allow for better decision-making on future improvements.
The water distribution model was designed by Bolton & Menk using AutoCAD and GIS mapping of the water system, including calibration and analysis of the system. A detailed report and recommendations were provided for future trunk watermains, storage, and supply, and acknowledged problem areas within the system. The modeling was a great tool that now allows the city to determine how to best solve issues and prioritize future plans.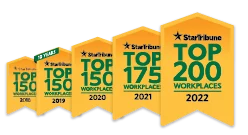 Named one of the very best workplaces in the State of Minnesota! We're proud to rank in the Top 50 on the list, and even prouder that we were voted in by our own employees.