Location
Hennepin County, Minnesota
CSAH 48 (Minnehaha Avenue) is a constricted corridor in a well-established neighborhood and was in need of reconstruction. Bolton & Menk provided full construction contract administration on behalf of Hennepin County and in partnership with the City of Minneapolis. The project included the full reconstruction of 2.6 miles of Minnehaha Avenue. Tremendous coordination and communication with a variety of stakeholders was essential.
The reconstruction was completed in four stages over the course of two construction seasons. Major project elements included concrete paving, replacement of seven signal systems, street lighting along the entire corridor, contaminated soils removal, and new storm sewer. The corridor contained more than 300 residential and multi-family homes and more than 80 commercial buildings.
Local access to businesses and residential driveways was maintained throughout construction. Hennepin County, the businesses, and residential areas affected by the reconstruction were happy with the continuous communication of our team and with the improvements made to their community.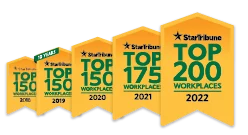 Named one of the very best workplaces in the State of Minnesota! We're proud to rank in the Top 50 on the list, and even prouder that we were voted in by our own employees.