Location
Hunter/Arthur JPA Park Board, North Dakota
After acquiring an old BNSF Railway bed through the Rails to Trails program, the Hunter/Arthur JPA Park Board was looking to transform it into a non-motorized alternative for pedestrians, bicyclists, and equestrians.
The project consisted of converting the existing ballast into a hard surface, retrofitting three existing railroad timber bridges to make them safe for pedestrian traffic, constructing three trailheads, creating a corridor-long arboretum with native North Dakota tree plantings, and adding pedestrian friendly appurtenances. The construction of the sustainable trail provides recreational opportunities for locals and visitors to the area; protection of existing wildlife habitats and natural resources; access to private and public lands for sportsmen; improvement of water quality, soil conditions, plant diversity and animal systems; and conserves the natural areas by protecting the established former railway right-of-way.
In the end, the six-mile project conserved the natural recreation and environmental corridor that had been established over the past 100 years. The Northern Cass Pass provides safe and friendly non-motorized travel between the two communities.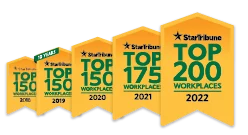 Named one of the very best workplaces in the State of Minnesota! We're proud to rank in the Top 50 on the list, and even prouder that we were voted in by our own employees.