Location
City of Litchfield, Minnesota
The City of Litchfield has several locations that routinely experience urban flooding during relatively small rain events. Overall, the city has flat topography that is largely developed. The combination of these two elements results in routine surface flooding, reduced storm sewer capacity, and higher risk of property damage.
Bolton & Menk prepared a report that focused on flood mitigation solutions for the four major city watersheds. Analysis of each watershed revealed three common issues. First, the existing storm sewer is smaller than what is needed to adequately convey the five-year rainfall event. Second, limited slope across the watershed further reduces the hydraulic efficiency of the storm sewer system. Finally, low areas throughout the city don't contain enough storm sewer inlets to serve the fast-moving surface water. Storm sewer and surface flood mitigation solutions were prepared for each watershed. These improvements included storm sewer replacement and upsizing; rerouting specific sections of the system to areas that have adequate capacity; and strategically placing surface or underground storage systems to capture and retain surface water runoff.
The flooding conditions required immediate attention to ensure public safety so the city adopted the proposed solutions and coordinated them with future street projects.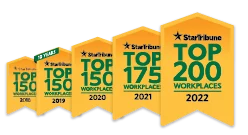 Named one of the very best workplaces in the State of Minnesota! We're proud to rank in the Top 50 on the list, and even prouder that we were voted in by our own employees.