Location
City of Mound, Minnesota
Solutions
The city faced reconstruction of two major Municipal State Aid (MSA) roadways: Tuxedo Boulevard and Grandview Boulevard. One of them carries traffic between the main north-south and east-west city routes, and the other provides the only connection to the southern portion of the neighborhood known as Island Park.
Bolton & Menk configured the project so the assessments, 429 process, and MSA process, including review and funding, were used. Detour routes were designed, but the majority of Tuxedo Boulevard was built under traffic as this is the only route to Al and Alma's Supper Club and Charter Cruises and all points south. A "one lane at a time" concept was designed, which eventually led to the contractor switching out flaggers for a more efficient and automated temporary signal system.
Grandview improvements were finished on time; however, advanced schedule management and specification writing/negotiation became necessary when the contractor was unable to finish the project by the original completion date. Work was halted and the contract renegotiated to ensure the city would have a reliable driving surface through the winter and the contractor would have enough time to finish a quality project in the spring.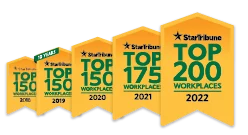 Named one of the very best workplaces in the State of Minnesota! We're proud to rank in the Top 50 on the list, and even prouder that we were voted in by our own employees.