Atrium Health Northeast Heart and Vascular Tower is a 165,000 square foot expansion of a four-story bed tower for cardiovascular facility. The project included a cath lab, cardiovascular ICU, pre- and post-op care, and a nuclear medicine department. The project also included infrastructure improvements from the existing Central Energy Plant to the hospital. Bolton & Menk provided civil engineering and landscape architecture design. One of our key contributions early in the design process was to identify new green space on the campus, and in negotiation with the City of Concord we were able to avoid detention and water quality management basins on the campus. This helped save several hundred thousand dollars which helped the team bring the project to completion within budget.
Awards
Charlotte Business Journal – Heavy Hitters Commercial Real Estate Awards – Top Healthcare Development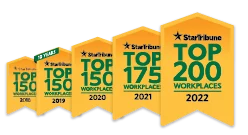 Named one of the very best workplaces in the State of Minnesota! We're proud to rank in the Top 50 on the list, and even prouder that we were voted in by our own employees.