Location
City of Osakis, Minnesota
In addition to upgrading rapidly deteriorating utilities, the City of Osakis wanted to turn their downtown into more of a tourist attraction. Existing utilities were in poor condition while surface conditions consisted of narrow lanes and parking stalls and cracked and settled non-ADA compliant sidewalks. Only one block from Lake Osakis and the Central Lakes Trail Corridor, the city wanted to attract visitors to their downtown to support current businesses and also bring in new businesses.
A complete reconstruction of sanitary sewer, water, storm sewer, streets, and sidewalks was necessary. Utilities were reconstructed from building front to building front. With the reconstruction of storm sewer, we were able to hook in most roof drains and sump pumps to reduce inflow and infiltration into the sanitary sewer system. Meetings with business owners and residents helped us understand how they wanted their downtown to look and feel. Decorative bike racks, trash receptacles, and lighting, concrete crosswalks, colored concrete intersection, and four gateways with wayfinding signage was added.
The reconstructed downtown is now an appealing area to draw people in from the surrounding lakes and trails.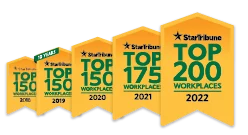 Named one of the very best workplaces in the State of Minnesota! We're proud to rank in the Top 50 on the list, and even prouder that we were voted in by our own employees.