Location
City of Perry, Iowa
The City of Perry spent several years investing in developing the Raccoon River Valley Trail within the city. Due to high volumes of bicycles, trucks, and local traffic and an old traffic signal, there were safety concerns at the trail crossing with the intersection of Highway 144 and Willis Avenue. A fatality at the intersection led to a high demand for improvements.
Bolton & Menk worked with the Iowa DOT, City of Perry, and LTAP to establish a plan for a three-lane road diet along the Highway 144 corridor that promoted cycling and pedestrian safety as well as vehicular-user efficiency. This included analysis of the Highway 144 and Willis Avenue intersection to identify a safer trail crossing. As a result, we worked with all parties to complete a TSIP grant application. The project was awarded and paid for entirely with Iowa DOT Traffic of Safety funds.
The city took the first step in the Highway 144 transition by making the intersection improvements to promote a safer crossing, provide access to the downtown cultural district, and create an efficient section for the road adjacent to the downtown.
Resources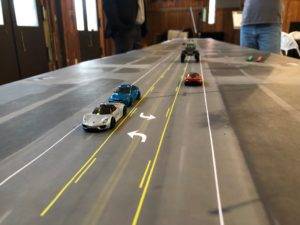 City of Perry worked with Bolton & Menk to update the signal at the intersection and implement a four- to three-lane conversion on Hwy 144 in downtown Perry to reduce the number of crashes, improve pedestrian safety, and calm traffic.
Learn
Named one of the very best workplaces in the State of Minnesota! We're proud to rank in the Top 50 on the list, and even prouder that we were voted in by our own employees.