Atrium Health's Pineville Phase II Bed Tower and Parking Deck project added 276,000 SF to the hospital and an 8-level, 750 space parking deck. Bolton & Menk provided civil engineering and landscape architecture services for the project. This is the latest project in a long series of projects on the Pineville campus that Bolton & Menk completed dating back to the mid-2000s starting with the Comprehensive Campus Improvements project, Expansion and Renovation project, MOB I and Deck, and Phase II Bed Tower project. Atrium Health used a collaborative design assist model to deliver this project, which set Bolton & Menk apart from our competitors as we completed a similar project on the Atrium Northeast project. Atrium Health tested co-location on this project, which means all the designers were actively working and designing in the same workspace on the Pineville campus. The project realized a $10 million savings from the original budget. This was due to many of the lean construction principles used, including co-location, pull planning, big room meetings, and early collaboration among designers, contractors, subconsultants, owners, and users.
Awards
Charlotte Business Journal – Heavy Hitters Commercial Real Estate Awards – Top Healthcare Development (FINALIST)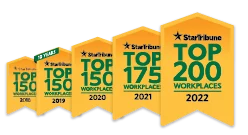 Named one of the very best workplaces in the State of Minnesota! We're proud to rank in the Top 50 on the list, and even prouder that we were voted in by our own employees.