Location
City of Ramsey, Minnesota
Sectors
The Mississippi River Trail through the City of Ramsey had some missing segments. Bolton & Menk assisted in completing the Mississippi River Trail through the city. The project was constructed in several segments, consisting of a total of 4.75 miles, with each segment receiving federal funding.
The project included design of a pedestrian bridge across an oxbow of the Mississippi River, crossing at TH 10 and connecting to the North Star Commuter Rail station in Ramsey. The bridge includes a steel beam span connecting to the station, several prestressed concrete beam spans, two 105-foot steel bowstring arch through truss spans, and a cast-in-place reinforced concrete slab tying into a helical approach ramp with a cantilevered deck system. Residents can now enjoy the completed trail without loss of connection.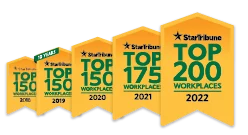 Named one of the very best workplaces in the State of Minnesota! We're proud to rank in the Top 50 on the list, and even prouder that we were voted in by our own employees.