Location
City of Saint Peter, Minnesota
TH 99 (Broadway Avenue) between TH 169 and the Minnesota River Bridge serves as a gateway to Saint Peter but provided little character. The roadway experiences more than 6,200 vehicles per day and is only one of two Minnesota River crossings within 20 miles. The pavement was in poor condition and storm sewer piping was old and undersized. Sight lines at some intersections made it difficult to see approaching traffic. Sidewalks and pedestrian access weren't ADA-compliant. Roadway repair was a priority, but the traffic volume and limited detour options made it costly and a hindrance to the public.
The Broadway Avenue Bridge was constructed in 1931 and considered fracture critical. In 2017, the bridge was rehabilitated to meet its historic character. Rehabilitating the bridge required a traffic detour. Rather than delay the Broadway Avenue reconstruction and force another inconvenient detour, the roadway was reconstructed at the same time as the bridge rehabilitation.
A new concrete roadway was constructed with a center median planter to match the downtown historic district planters. New storm sewer was installed along with ADA-compliant sidewalks. The roadway was narrowed to improve traffic flow; traffic lanes were located to improve sight lines and still allow large machinery to use the roadway and bridge. New boulevard trees, median flowers, and street lighting were installed. The corridor now provides a functional, clean, and durable gateway to the city.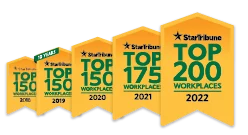 Named one of the very best workplaces in the State of Minnesota! We're proud to rank in the Top 50 on the list, and even prouder that we were voted in by our own employees.