Location
City of Sleepy Eye, Minnesota
The City of Sleepy Eye wanted to complete the final 1,800-foot stretch of a 3-mile trail loop around Sleepy Eye Lake to provide a safe alternative to the TH 4 shoulder for pedestrian and bicycle traffic. The speed limit in this section reaches 50 mph, with zero separation between the driving lane and shoulder.
To meet MnDOT recommendations and create a safe route for pedestrians, Bolton & Menk facilitated the construction of a 10-foot-wide trail and 14-foot-wide reinforced grass paver separation zone. The project required filling about one acre of Sleepy Eye Lake. An innovative plan for snow removal through the corridor was implemented, allowing for easy maintenance. This solution has an eco-friendly design, reducing the amount of road salt into the lake while allowing trucks to push snow over the top.
Extensive correspondence, coordination, and permitting with the U.S. Army Corps of Engineers, DNR, and the Local Government Unit overseeing the wetland mitigation process was key. The project met the city's many goals and is now a vibrant lake trail for outdoor enthusiasts to enjoy.
Awards
American Council of Engineering Companies of Minnesota – 2016 Honor Award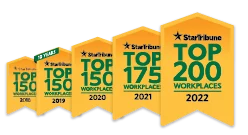 Named one of the very best workplaces in the State of Minnesota! We're proud to rank in the Top 50 on the list, and even prouder that we were voted in by our own employees.