Location
City of St. Louis Park, Minnesota
Solutions
The City of St. Louis Park, in coordination with Hennepin County, wanted to examine the feasibility of implementing a continuous bikeway along Cedar Lake Road, a major east-west corridor spanning the entire width of the city. Destinations include transit hubs and facilities, schools, churches, neighborhood commercial nodes, employment centers, public service centers, apartments, parks, and single-family homes.
Bolton & Menk established and prioritized study goals and collected and evaluated various data metrics. Design criteria was developed based on published research and observed industry best practices. We identified critical areas that required reconstruction to support a continuous bikeway system. An implementation plan was created to use future, planned city projects to complete critical improvements. We also identified future bikeway connections to implement under separate projects. A public involvement program helped us gather community input. Based on input, preliminary and alternate design analysis and cost estimating were completed. The Cedar Lake Road bikeway will be implemented in coordination with the city's planned reconstruction of Cedar Lake Road, which will occur in three separate phases over a five-year duration.
Resources
In a world of planes, trains, and automobiles, more and more travelers are opting to use bicycles—an environmentally and economically friendlier way to get around your community.
Learn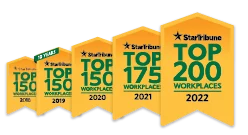 Named one of the very best workplaces in the State of Minnesota! We're proud to rank in the Top 50 on the list, and even prouder that we were voted in by our own employees.