Location
City of Storm Lake, Iowa
The City of Storm Lake was experiencing degrading water quality in their biggest asset, Storm Lake. An undersized, or in many cases, non-existent storm sewer caused seasonal flooding leading to deteriorated streets and sidewalks.
Using permeable pavers, rain gardens, and bio-retention areas, Bolton & Menk turned Erie Street into an effective stormwater management tool. These various stormwater BMPs encourage infiltration, reduce runoff, and promote nutrient reduction. In addition to the stormwater quality benefits, enhancements were made to the corridor aesthetic, including increasing accessibility, LED lighting, and other pedestrian accommodations. The Erie Street improvements were partially funded by a CDBG grant, greatly reducing the city's financial burden.
The design solutions demonstrated the range of BMPs used in a downtown setting and showcased the adaptability of alternative stormwater management practices. The result was a safe, maintainable, and aesthetically pleasing street that addressed the city's flooding and stormwater quality issues.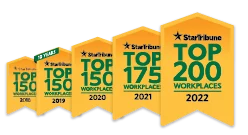 Named one of the very best workplaces in the State of Minnesota! We're proud to rank in the Top 50 on the list, and even prouder that we were voted in by our own employees.