Location
Three Rivers Park District and City of Brooklyn Center, Minnesota
A regional trail was needed along 57th Avenue in Brooklyn Center. Bolton & Menk completed construction of the trail along the narrow, one-mile-long corridor. The project included relocation of a curb line, resulting in the elimination of parking along a portion of the corridor. A balance of street, trail, and green space was achieved while minimizing impacts to the built-up residential area.
Upon completion of trail, approximately half of the street was reconstructed or rehabilitated to extend the useful life of the pavement. Area residents can now enjoy walking and biking along the trail while drivers enjoy a smooth pavement surface.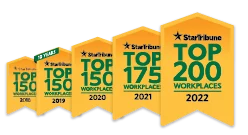 Named one of the very best workplaces in the State of Minnesota! We're proud to rank in the Top 50 on the list, and even prouder that we were voted in by our own employees.