Location
City of Wabasha, Minnesota
Like many cities, Wabasha is faced with deteriorating pavements. To address this issue, the city has designated annual funding in their capital improvement fund for street improvements, including seal coats, crack sealing, and mill and overlay.
Bolton & Menk developed a citywide street condition inventory, which evaluated the condition of city streets using the PASER method. Using the inventory, a scope of work was developed for mill and overlay improvements. In addition to street improvements, sanitary sewer and watermain utilities beneath the streets were evaluated, which included video inspection of the sewer main. The video inspection revealed that although the sewer main had been lined, the sewer services were a source of infiltration into the system. It was determined that improvements to sewer services were warranted in addition to the mill and overlay improvements. To minimize surface restoration, CIPP lining was selected to rehabilitate the sewer services in the project area.
The city's street condition inventory is now a useful tool in the proper evaluation and scheduling of pavement maintenance tasks.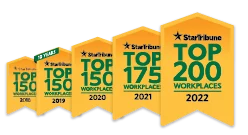 Named one of the very best workplaces in the State of Minnesota! We're proud to rank in the Top 50 on the list, and even prouder that we were voted in by our own employees.