Location
City of Waconia, Minnesota
TH 5 was a two-lane rural highway with numerous access points. The highway had over four times the state average for crash frequency and was at capacity for a two-lane highway. It was limited in terms of mobility, access, safety, and function, and was considered a barrier to the community. In addition, the corridor struggled with limited pedestrian facilities and was plagued with regional drainage issues, undersized pipes, and limited surface storage areas.
Bolton & Menk developed a concept, gathered support, and obtained TED funding, as well as refined the design and completed environmental analysis. The corridor was upgraded from a two-lane rural section to a four-lane divided urban section with trail and streetscaping improvements. A context sensitive design was developed with reduced lane widths and shoulders. Existing right-of-way was maximized with minimal impacts for expansion. Additionally, an effective drainage system was developed along with larger, regional stormwater ponds for flood control and water quality improvements.
The project exemplifies a low-cost/high-benefit approach adding more capacity and function with minimal roadway width while also accommodating non-motorized traffic.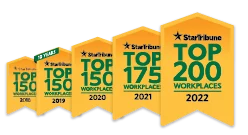 Named one of the very best workplaces in the State of Minnesota! We're proud to rank in the Top 50 on the list, and even prouder that we were voted in by our own employees.