Location
South Carolina Coastal Development. I, Inc.
Sectors
Bolton & Menk is the engineer of record for this project which is located on a 675-acre tract in the Carolina Forest region of Horry County. Bolton & Menk provided surveying, planning, design, regulatory approvals, construction observation, and contract administration. We planned the project with a 60-acre lake as the main visual amenity. The tract was encumbered by approximately 150 acres of wetlands which were avoided entirely with the exception for a few road crossings—all permitted under the USACE Nationwide Permit Program. In addition, we planned and designed the clubhouse and pool complex that has the largest swimming pool amenity in the Carolinas. The project has nearly 1,300 single-family lots. Bolton & Menk is particularly proud of the design of Phase 1. We completed the design of this 468-lot phase, including 3 sewage pump stations, bridges, and the 60-acre lake in just 54 days! The client had deadlines that were critical to their sales efforts, and we stepped up to ensure those deadlines were met. Their sales force sold every lot in the first phase over two weekends.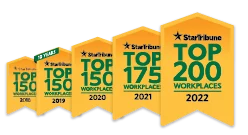 Named one of the very best workplaces in the State of Minnesota! We're proud to rank in the Top 50 on the list, and even prouder that we were voted in by our own employees.