Location
City of West Des Moines, Iowa
Solutions
Three blocks of roadway in the City of West Des Moines' Historic Valley Junction District needed to be rebuilt. In addition to a deteriorating road surface, there were drainage issues due to flat grades, utility issues due to shallow dry utilities, and on-street parking issues. The city implemented this high profile project with an active resident population and a need to coordinate accessibility for residents with limited mobility.
Project challenges were solved by carefully considering the existing infrastructure and evaluating its functionality. The existing items that were functioning well were retained. New elements were incorporated to improve areas that were inadequate. Bolton & Menk's solution to the drainage issues was to import subbase and improve road grades to surface drain the roadway to existing curb inlets. Additionally, a combined storm sewer and subdrain was used to minimize underground conflicts. Significant stakeholder involvement was necessary to understand concerns and provide workable solutions.
The end result is a revitalized historic district that the community can look in favor upon for being a part of the workable solution.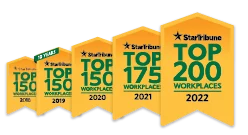 Named one of the very best workplaces in the State of Minnesota! We're proud to rank in the Top 50 on the list, and even prouder that we were voted in by our own employees.