Location
City of Woodbury, Minnesota
The proposed construction of a new ISD 834 elementary school required reconstructing the surrounding public roadways. Bolton & Menk performed the design and construction services for this project, which widened Settlers Ridge Parkway from a two-lane urban section to a four-lane divided roadway with turn lanes at each intersection. The project also widened Brookview road from a two-lane gravel road to a three-lane urban roadway.
The project included reconstructing the roadway corridor, new signal system, pedestrian upgrades, landscaping, trunk watermain extension, and minor sanitary sewer improvements. Early and continual communication with the stakeholders led to successful reconstruction of the roads that function as the main accesses to the school and residences. A similar effort will be required when making improvements to the local streets that surround the commercial area west of Woodbury Drive.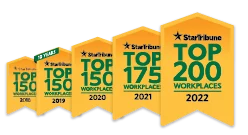 Named one of the very best workplaces in the State of Minnesota! We're proud to rank in the Top 50 on the list, and even prouder that we were voted in by our own employees.