Location
City of Zimmerman, Minnesota
The CSAH 4 and Fremont Drive intersection was a consistent bottleneck for traffic in Zimmerman. The close proximity of the intersection to TH 169 and lack of dedicated turn and through lanes on CSAH 4 created back-ups and safety hazards in multiple directions. Locals often avoided Fremont Drive because they did not want to deal with traffic trying to cross TH 169.
A plan was developed to relocate the intersection approximately 650 feet to the east, providing distance for dedicated turn and through lanes on CSAH 4. Federal funding was pursued through MnDOT's Surface Transportation Program. Because of planned county work on CSAH 4, Sherburne County served as the sponsoring agency and Bolton & Menk provided design and construction engineering for the street realignment. Bidding and contracting of improvements on CSAH 4, Fremont Drive, and the TH 169/CSAH 4 signal and intersection was also included. Because of tight right-of-way constraints, design standard variances were obtained from MnDOT.
The solution achieved provides for safer vehicular travel. In addition to the realignment and extension of Fremont Drive, additional pavement improvements north of the realignment were provided to extend the life of the existing pavement for several years.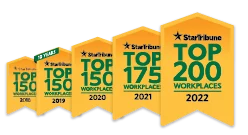 Named one of the very best workplaces in the State of Minnesota! We're proud to rank in the Top 50 on the list, and even prouder that we were voted in by our own employees.