Since retiring the IRC system, there has not been a statewide planning and prioritization process to guide Greater Minnesota National Highway System (NHS) mobility investment decisions. The goal of the mobility study is to identify locations with the greatest mobility and reliability issues and identify low-cost spot improvements to address needs.
Bolton & Menk evaluated more than 9,300 miles of NHS routes in Greater Minnesota. The evaluation was completed in a web-based GIS application to efficiently analyze more than nine billion records and illustrate the results on a statewide basis for local districts and regional planning organization's input.
Our data-driven approach was fully endorsed by the advisory committee to fairly consider priorities within each Greater Minnesota MnDOT district. We are in the process of leading workshops with each district to gather input and confirm the high-priority locations. Three of the seven districts have been completed thus far and support the needs identified through the evaluation.
We have also received positive feedback from Greater Minnesota MnDOT districts who value the need to look at mobility differently, using new data available and in a quantifiable manner.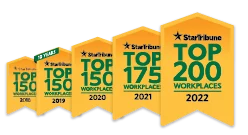 Named one of the very best workplaces in the State of Minnesota! We're proud to rank in the Top 50 on the list, and even prouder that we were voted in by our own employees.