Location
Dakota County, Minnesota
The CSAH 50 corridor is a critical component (A-minor arterial) of the broader transportation network in Dakota County, providing connections from the Cities of Lakeville and Farmington to I-35. CSAH 50 is important to the City of Lakeville as it provides direct access to Kenwood Trail Middle School, multiple residential neighborhoods, and commercial areas. The Dakota County Transportation Plan identified this corridor be expanded to a four-lane divided roadway to accommodate the growing demands. Expansion of this important local and regional arterial to accommodate the existing and future traffic levels is critical to the overall county network and accessibility for residents and businesses.
Bolton & Menk led the preliminary study and final design which included
Upgrading the corridor from a three-lane rural section to a four-lane urban divided section

Limiting impacts to adjacent right-of-way

Reducing conflict at intersections

Maintaining access to key commercial and residential areas at all times during construction

Accommodating needs for the next 20 years of growth

Accommodating pedestrians, bicyclists, and disabled persons/evaluating key crossing locations (school)

Maintaining city infrastructure

Providing safety improvements for all users

Evaluating stormwater rate control and treatment options to manage runoff to Lake Marion

Leading a transparent and interactive public participation process
Bolton & Menk led Dakota County and the City of Lakeville through a sustainable design process that resulted in a publicly supported project that met the needs of a growing community in Dakota County, while meeting the expected project budget and cost sharing between project partners.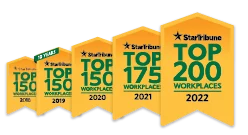 Named one of the very best workplaces in the State of Minnesota! We're proud to rank in the Top 50 on the list, and even prouder that we were voted in by our own employees.