Location
North Carolina State University
Solutions
Sectors
The Talley Student Union is an exciting building renovation and expansion for the main campus at NCSU. The building and exterior spaces embrace the history and existing context of the campus while bringing NCSU into a new era. Bolton & Menk provided design, construction documentation, and construction administration services for this large and complex signature project. The facility houses the University Bookstore, Stewart Theater, dining venues, offices, and meeting rooms and functions as the hub of student life. The landscape reflects NCSU's goal of making Talley a nexus of pedestrian connectivity for the main campus. The site also provides a large green space for campus events, outdoor dining, and social spaces and links the building to key campus pedestrian paths. The building will accommodate three areas of future extensive green roofs with durable drought tolerant plants to reduce stormwater runoff, insulate the building, and provide educational opportunities for students, faculty, and visitors. The site features a large cistern to recycle rainwater for irrigation, rain gardens to treat stormwater, and a sustainable planting design featuring a mix of native and adapted plant materials. Paving patterns in the landscape seamlessly blend with surrounding campus spaces.
Awards
Sir Walter Raleigh – Award for Community Appearance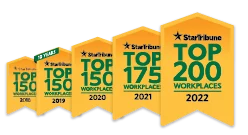 Named one of the very best workplaces in the State of Minnesota! We're proud to rank in the Top 50 on the list, and even prouder that we were voted in by our own employees.