Location
City of Becker, Minnesota
Solutions
Sectors
The City of Becker is at a critical juncture in its growth and development. Major changes in and around the community will require the city to make important decisions about its future. The city has been preparing for the future in increments with several recent, yet independent, planning studies. The city is in the process of updating its comprehensive plan to pull these efforts together and take a comprehensive look to the future.
Bolton & Menk is completing the comprehensive plan update. Our approach includes extensive engagement with community leaders and roundtable discussions with industry experts in housing and industrial development. We have been able to continue these outreach efforts, despite the COVID-19 pandemic. The plan is scheduled for final completion in early 2021.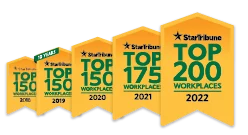 Named one of the very best workplaces in the State of Minnesota! We're proud to rank in the Top 50 on the list, and even prouder that we were voted in by our own employees.