Location
Iowa State University
Solutions
Sectors
In response to growing needs for outdoor space and an existing underused plaza that was beyond its life expectancy, Bolton & Menk designed a new outdoor plaza for The Hub, an important component to the Central Campus of Iowa State University. The Hub is a historic building in the heart of Iowa State University that serves thousands of users daily. This building serves as a dining area and coffee shop for students and staff. As part of the courtyard improvements, high quality materials were selected to lessen maintenance needs and fit the surroundings of the Central Campus. Bolton & Menk worked with the University to develop a barrier free, aesthetically pleasing extension of The Hub that will serve as a social crossroads of the community for decades to come.
Challenges encountered on the project included
Design to fit into existing campus character

An early design process that used on-campus QR codes to gather feedback and student voting of preferred design options

Steam tunnel preservation including avoidance during construction

Continued access, including construction during the school year and consideration for student access and safety

Construction limits to maintain crucial campus circulation and access to other facilities on-site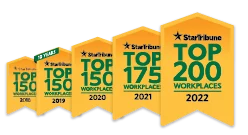 Named one of the very best workplaces in the State of Minnesota! We're proud to rank in the Top 50 on the list, and even prouder that we were voted in by our own employees.