Location
City of Marshalltown, Iowa
Solutions
Marshalltown suffered tremendous damage from a strong thunderstorm in 2018. West End Park was especially impacted, with the loss of a shelter and many of the park's trees. This park is located behind the school and within the community's entertainment district where multiple outdoor events occur.
Among the park's amenities is an outdoor event space capable of holding 150+ people while accommodating food truck parking. The park will also feature an architectural shelter that acts as the performance stage and concession/restrooms. The park is tied together by a walking trail that loops through the park, stream bank restoration that incorporates lawn paths alongside its banks, a boardwalk with rain gardens for stormwater storage, a natural playscape, Futsal courts, and a baseball practice field.
With the opportunity to re-imagine West End Park, Bolton & Menk assisted the community in developed a park plan that will link North 13th Street to West End Park and provide a new place for events to occur along North 13th Street. The park has the potential to bring multiple disparate community groups together while providing a variety of amenities for all ages.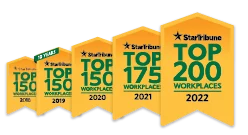 Named one of the very best workplaces in the State of Minnesota! We're proud to rank in the Top 50 on the list, and even prouder that we were voted in by our own employees.