Location
Dakota County, Minnesota
Diffley Road (CSAH 30) provides a vital connection for commuters and residents to the City of Eagan. Improvements to the Diffley Road access to Eagan High School were needed to ensure the safety of students and other travelers. The project began in 2019, looking at pedestrian safety and vehicular level of service improvements at the intersection of Diffley Road and Braddock Trail but took a pause in mid-2019 to gather community support. In late 2019, a student crossing the four-lane divided roadway was struck and killed at an uncontrolled, unmarked intersection. This incident propelled Dakota County, the City of Eagan, and ISD 196 to rapidly push forward a School Area Safety Improvements Study. Bolton & Menk led the study, gathering input from the community and collaborating on short- and long-term improvements.
Using the momentum from the recent study, Bolton & Menk worked with Dakota County, the City of Eagan, and ISD 196 to implement a lane reduction of Diffley Road east of Lexington Avenue, single-lane roundabouts at Daniel Drive and Braddock Trail, a new access road from Diffley Road to Dakota Hills Middle School/Eagan High School's south parking lot, a reconfiguration and expansion of the school's parking lot, and improvements to the school's parking lot access along Braddock Trail. These much-needed improvements will help Dakota County realize their vision of a safer Diffley Road and school area.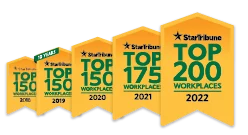 Named one of the very best workplaces in the State of Minnesota! We're proud to rank in the Top 50 on the list, and even prouder that we were voted in by our own employees.