Location
Dakota County, Minnesota
A significant gap existed in the pedestrian and bicycle system along the north side of CSAH 42 between Nicollet Avenue and Elm Drive. Bolton & Menk assisted Dakota County, in cooperation with Burnsville and Apple Valley, in the development of an off-road bikeway/walkway facility to fill this gap.
A preliminary alignment and profile of the trail was developed, and numerous alternatives evaluated to reduce impacts to adjacent right-of-way and environmentally sensitive areas. Improvements included a 10-foot bituminous shared use path, pedestrian curb ramps meeting ADA Standards and PROWAG, four retaining walls, and water quality improvements. To provide for a safer trail, a rural section of CSAH 42 between Portland Avenue and CR 11 was converted to an urban section by adding curb and gutter and new storm sewer.
Efforts to implement design flexibility principles resulted in the removal of a pedestrian bridge, eliminating numerous retaining walls, and developing an innovative approach to treat stormwater in the existing grass medians. These efforts resulted in a significant decrease in construction cost and right-of-way acquisition.
The project successfully achieved the goals of promoting alternate modes of travel along CSAH 42, linking people to businesses and employment areas, and supporting healthy living.
Resources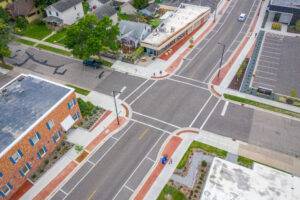 As more people are taking to the streets in more ways than one, it's important that roads are built with each mode of transportation in mind. We take our role seriously to ensure your residents – pedestrians, bicyclists, and drivers – are as safe as possible.
Learn
Named one of the very best workplaces in the State of Minnesota! We're proud to rank in the Top 50 on the list, and even prouder that we were voted in by our own employees.