Location
City of Mankato, Minnesota
Sectors
After a water plant rehabilitation and ultrafilter (UF) membrane addition, the City of Mankato and Bolton & Menk identified a significant source of water being lost in the drinking water treatment process. UF membranes require frequent "backwashing". The backwashing process, which uses treated drinking water from the distribution system, was consuming 450,000 gallons of useful water per day that could be re-treated and returned back to the drinking water supply. Instead, water was discharged directly to the sanitary sewer system. In realizing disadvantages, the city worked closely with the Minnesota Department of Health to develop a "reclamation" system to return water back to the treatment process. The amount of water saved is equivalent to the daily use of 5,000 residents.
Awards
American Public Works Association – 2017 Public Works Project of the Year

American Council of Engineering Companies of Minnesota – 2016 Honor Award

Minnesota Chapter of the American Public Works Association – 2016 Environmental Stewardship Award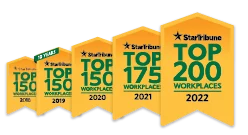 Named one of the very best workplaces in the State of Minnesota! We're proud to rank in the Top 50 on the list, and even prouder that we were voted in by our own employees.