Location
Anoka County, Minnesota
Overview
"When I'm involved in the public engagement events, community members of all ages are expressing frustration with just being able to get around, so it means a lot to me that we're making something that all people can use, and that we build infrastructure everyone can feel safe and comfortable using."
– Mike Narow
Solutions
CSAH 8 has experienced 16 roadway crashes over a three-year period. The existing four-lane roadway, which carries between 9,000 and 12,000 vehicles per day, is a concern for pedestrians and bicyclists attempting to cross the road. The corridor includes churches, an elementary school, a hospital, multiple businesses, and homes. Users need to cross CSAH 8 and should be able to do so safely.
Bolton & Menk worked with Anoka County, the City of Fridley, and the City of Spring Lake Park to eliminate unnecessary traffic lanes and repurpose the space for better use. By reducing the roadway to one lane of traffic in each direction, the amount of vehicle conflict points and the risk for crashes decreases. Expanding the shoulder and boulevard space increases the distance between the pedestrians on the trail and sidewalk from vehicle traffic. The left turn lane will further increase roadway safety by removing the turning traffic from through traffic.
By considering access and accommodations for all travel modes – including transit, pedestrians, and bicyclists – we can create a more enjoyable walking and/or biking experience for users.
Resources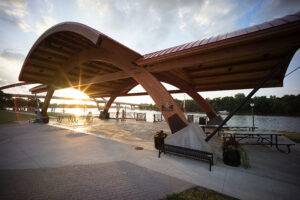 At Bolton & Menk, we listen from your perspective to bring you solutions that will fit your community's needs to become safe, sustainable, and beautiful.
Learn
Named one of the very best workplaces in the State of Minnesota! We're proud to rank in the Top 50 on the list, and even prouder that we were voted in by our own employees.