Location
Mankato Township, Minnesota
Solutions
As the Le Sueur River nears the Minnesota River Valley, the main channel slope gradually steepens. The upper watershed is large and relatively flat. River Park Drive is located midway through the steep fall to the Minnesota River where the erosive forces are most intense.
Bolton & Menk repaired an area of land sliding between two previous township erosion repair projects. Land sliding occurred in the area after the 2016 record rainfall events that included 14 inches in the upper reaches of the watershed and an average rainfall of more than 6 inches across the entire river watershed. This created a steep vertical drop within 15 feet of River Park Drive. Further erosion was prevented near the land slide. Final design included a gabion basket retaining wall and large riprap at a maximum slope of 1.6 to 1 (H:V). Large diameter, angular granite riprap was used to ensure the slope remained stable. The slope was grouted with compost, hydroseeded with a native seed mix, and lightly bonded to protect from erosion while seed germinated.
The result is a green armored bank that looks like a steep natural bank to the many kayakers passing through the area.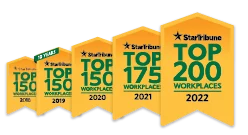 Named one of the very best workplaces in the State of Minnesota! We're proud to rank in the Top 50 on the list, and even prouder that we were voted in by our own employees.